Your alarm goes off on Monday morning. You slide out of bed and slip into your comfiest sweatshirt and yoga pants. You go downstairs and grab a fresh cup of coffee. Now it's time to go to work… but you don't have to leave your house.
Does this sound like an amazing morning? Is this something that you want? The remote work-life/work from home trend is here to stay and even more now than ever with the Corona Virus Pandemic currently happening. Some of you may be missing the hustle and bustle of the office life but many of you may realize that working from home is something you actually like and want to keep doing. You can read all about how amazing it is to work from home in my other blog, The Ultimate Guide to Work Online from Home in 2020.
YOU DECIDE THAT WORKING FROM HOME IS FOR YOU AND YOU GO FOR IT! NOW, HOW DO YOU ADJUST FROM the 9 to 5 OFFICE LIFE TO BEING AT HOME 24/7?!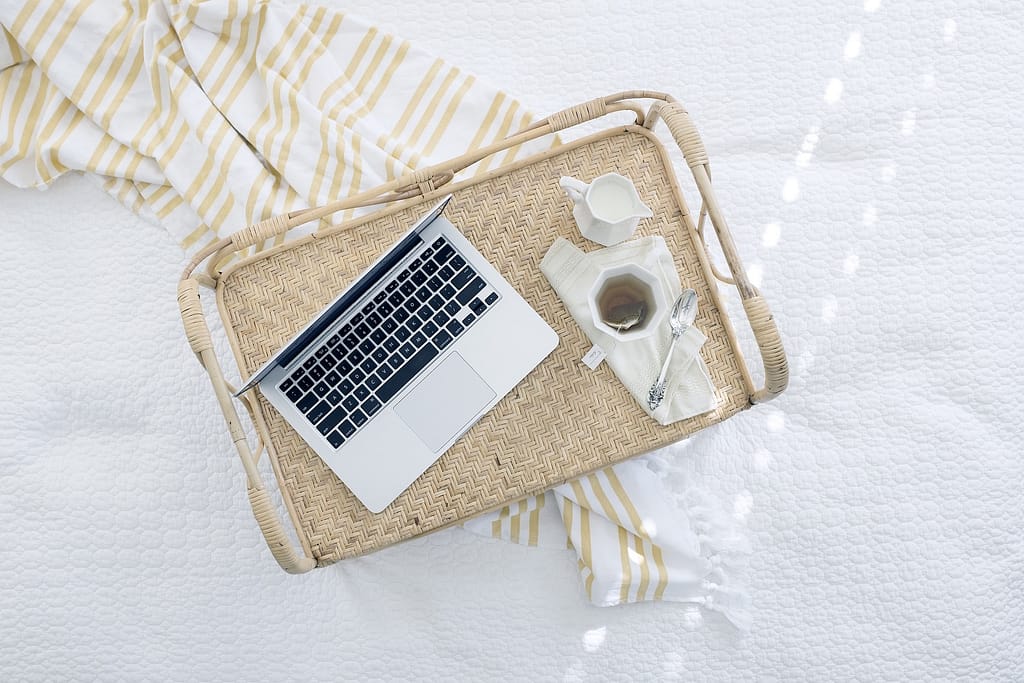 HERE ARE SOME TIPS:
– Set Aside a Work Space
When you live and work in the same place and are there all of the time, you have to have a designated workspace. If you have an extra room, great! Make it into your dream office! Do you have a loft area? A basement? Even an area in the kitchen where you could create a workspace? Do whatever works for you in your home.
Some things to keep in mind: Although it sounds great to sit in your bed with your laptop all day, this will start confusing your body and it will be hard not to sit in bed and work at 11 pm at night. It is best to keep work and your personal life as separate as you can in order to have a better work/ life balance.
Speaking of a better work/ life balance…
– Have Set Work Hours
If you are a W-2 employee of a company that works remotely, you may be obligated to work the typical 9 am-5 pm with an hour lunch break. Others that work remotely may get to set their own hours, such as a Freelancer. You can learn more about what a freelancer does HERE. Make sure that you sit at your desk/ workspace during work hours and shut your computer off when it is your personal time or family time and leave work in that designated space. This will create more normalcy as if you were going into an office. This also helps to limit distractions while you are at home. Although it would be great to sit in your bed and binge-watch your favourite Netflix show (Mine is The Office!) while you work, this might not be the most productive use of your workday.
– Communicate with Other Humans
While working from home can be the dream for most introverts, there are extroverts that do remote work also. Humans NEED human interaction, and if you don't get that for days or weeks at a time, you might just go crazy working from home. Try going to work at your local coffee shop 1 or 2 days a week. Get a change of scenery and talk to the barista for a few minutes. You may even end up meeting some other remote workers like yourself. If you work on a team, try using a messenger system like Slack, Discord, Google Chat or Voxer.
Working remotely can be an amazing opportunity. Use these tips to help you better adjust to remote work life!