The work (online) from home trend is here to stay.
The coronavirus outbreak has rapidly changed all our lives, and the new normal for many of us might be to work online. Even after this catastrophe ends, working from home will be the new trend for many companies. It saves the cost of rent, infrastructure and also saves time and money for the employees who don't have to travel to work.
So if you're looking to work from home, keep reading.
Working from home isn't easy. It takes a lot of discipline and self-motivation, but if you're up for the challenge, it is very rewarding!
You can set your hours.
There's more flexibility.
No office politics.
There is more earning potential.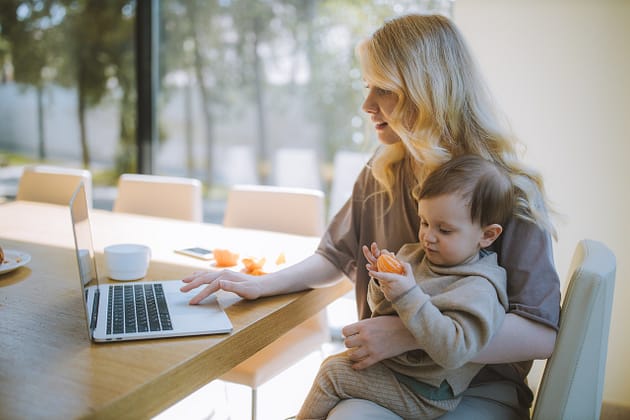 Do you want to start working from home but have no idea how? Then this section is for you.
First, you need to decide if you want to start your own online business or help other companies by offering freelance services online. You can even apply for a remote job. After you make your decision focus on acquiring the skills required to build that business or get that job.
– You need a solid goal and a timeline in mind to work from home.
If you are serious about working from home or anywhere, you need a plan that includes a set of solid goals that you know are achievable within a fixed timeline. Consider how long it will take.
– What will be your focus? What are you going to sell?
You need to have a product or service ready that can make you money.
– Evaluate the latest tech and tools people are using to work from home.
Will you start a blog and use that to promote or sell your service or product? Will this be on WordPress or Wix? Consider the tech. Do your research on the different tools available online. There are free ones as well as paid ones.
– What resources will it require to work online?
How much time and money are you willing to put into starting an online business or learning online skills to get a remote job. It's not necessary to spend a lot of money. But you will need to spend time learning and levelling up your skills.
– Focus on getting quality email subscribers.
Every business is focusing on email subscribers. Having an engaged list of subscribers is one of the best things you can do to ensure long term success. You need to have a blog or website with your domain name and host set up. All businesses need a website, and almost every business should be active with content creation, social media and advertising.
– Offer services as a freelancer
As mentioned earlier, one of the many ways to work online is by offering services as a freelancer. You can provide social media management, content writing, audio or video editing, graphic design, admin services and lots more. Depending on your skill, you can offer one or multiple services. To look for clients, you can join various entrepreneur Facebook groups. Introduce yourself, add value in the comments, and build relationships.
– Learn from your failures
It is crucial to understand this point. Failing may be a part of your journey, but I can assure you that if you learn to use it as a stepping stone, there's no stopping you.
You need a plan; it won't be easy, you have to do your research, there are plenty of scams out there, look for the red flags.
And most importantly, believe in yourself. 🙂
If you're already working online for a remote company, then below are a few tips and best practices to help you stay productive and on track.
– Set up a functional and dedicated workspace
Not everyone can set up a designated home office, but it's critical to have a private, quiet space for your work. If you can, separate your work area from your personal space for optimum productivity.
– Get good internet speed
Having a good internet connection is one of the crucial aspects of working from home. With insufficient or slow internet, your work will be hampered, take too long or just won't be done.
– Use communication apps
If your job involves making international calls, Google Hangouts, WhatsApp, and Skype, etc. let you call over the internet across the globe for free.
– Commit to your new lifestyle
Set up a plan. The most crucial issue to working online is setting up a plan and clinging on to it.
– Set and prioritize goals

(daily, weekly, and monthly)
Set realistic goals for yourself. Every day should be a milestone. Planning your days well in advance will benefit you thoroughly and make you better at your job.
– Eliminate distractions
.
Eliminate all distractions: no social media, or tv. Just because you're working from home doesn't mean you don't require set hours. Let your family members know when you're working and not to disturb you. Learn your natural rhythms and optimize around them.
– Set clear boundaries for work and personal life
.
Create an agreement about the time you'll be available to communicate with coworkers. It's essential that you physically turn off and exit your workspace. Work-life balance is important, even if your office is inside your house. Remember to move around and take breaks, at least 5 minutes, for each working hour.
– Log your working time
.
There are many tools to help you log your work time. Try Clockify or Toggl. This way, you avoid mistakes and confusion, trying to recall what took your hours a few days ago.
Work From Home Companies
Several legit companies offer a wide array of work online from home jobs. All kinds of jobs are available out there. From entry-level to super experienced.
– Amazon.com Inc.
Job openings at Amazon.com vary from customer service positions to global account manager jobs.
– Dell Inc.
Dell has work from home job openings in many fields. Sales, tech support and marketing management are a few examples.
– American Express Co.
American Express offers full-time, part-time, temporary, and contract work. The positions cover a broad spectrum of opportunities. They include business development management, as well as part-time virtual customer care representative jobs.
– Kaplan
Kaplan specializes in online higher education, professional training, and test preparation. Its most popular telecommuting position is a tutor. To get hired as a Kaplan tutor, a candidate must demonstrate strong performance on one or more standardized tests, such as the SAT or GRE.
– Salesforce.com Inc.
The company's telecommuting job openings usually require years of prior experience. An entry-level candidate's best bet to work from home for Salesforce is to pursue a sales job.
– Automatic Data Processing
Automatic Data Processing (ADP) provides outsourcing and payroll solutions to businesses around the world. Most of its work from home job openings are in sales and customer service, which means entry-level candidates, have a chance at being hired. Others are in software and application development, which pay more but require specialized technology skills.
– Xerox Corp
Xerox offers flexible scheduling for many of its on-site employees. Available telecommuting jobs include executive recruiting, part-time call centre positions, and project management.
The Top Types of Work From Home Jobs
Here are some of the most common work-from-home options. Some are more on the unskilled/entry-level side, while others require specialised training and expertise.
– Virtual assistants
Think of a virtual assistant (V.A.) as a remote secretary. A traditional secretary who requires office space and employee benefits is often more expensive to a company. If the company is small, it may be more beneficial to work with a V.A… Virtual assistants work from home, often communicating with the boss via chat, Facetime, Zoom, etc. Responding to emails, creating business documents, calling clients, scheduling appointments, handling social media, bookkeeping and data entry are a few examples of what a V.A. does. Key talents for this sort of job include excellent communication skills and some office experience. Many virtual assistants also niche down and specialize in one particular service, which enables them to charge a higher hourly rate.
– Translators
International companies need translators all the time. They translate files and documents or transcribe and translate conversations and conference calls. People who speak uncommon languages are even more in demand, and these home-based jobs are plentiful.
– Call centre/customer service representatives
Many companies outsource their customer service work to home-based agents. This saves the companies the additional cost it requires to manage a physical office for customer service agents. The typical qualifications needed for this type of job are excellent communication and people skills. An extension of the traditional customer service job is a chat agent, who responds to customer questions live via the company's website or social media.
– Data entry and transcription
Although these are two very different types of jobs, data entry and transcription jobs usually require the same skills and qualifications. Data entry involves entering facts and figures into a software program or spreadsheet. It could include entering payroll data, catalogue or inventory items, or working with a customer relationship management system.
Transcription work involves creating written documents from audio files. This is usually done for businesses that need meetings, workshops, conference calls, or podcasts documented. Typically, the employer provides the software and content management system required for the work.
For both kinds of jobs, employers generally look for people that are detail-oriented and have excellent typing skills.
– Teacher/tutor
The online education industry is growing, and so is the need for tutors who are able to teach online. Jobs for online tutors do not require teaching credentials (although an educational background is often desired). Tutors for advanced subjects, such as math, chemistry and physics, can earn a higher hourly rate.
Watch out for the Scams
Work-at-home jobs have come a long way.
Always do your homework on a potential employer. Make sure that the company is established. If you can't find evidence that it has a physical address and sells a product or service, it's best to avoid it. Be sure to track down contact information, and test it out.
As with any job, there should be an application process and an interview. Anybody who is legitimately looking to hire someone will want to interview the applicants via Zoom or Skype. Also, you shouldn't incur any expenses yourself to be hired. If a work-from-home opportunity requires you to pay a fee up-front or buy a "start-up kit", then it's probably a scam. You will, however, need to invest in a fast, reliable internet connection, if you don't already have one, a high-quality audio headset and of course a good laptop.
In Conclusion
Working online from home can be exciting, empowering and even profitable, provided you are realistic and disciplined. Whether you are a freelancer, a company part-timer, or a full-time remote employee, it's a way to escape the 9-5 monotonous routine. But there are added responsibilities that come with freedom, not to mention planning, foresight, self-discipline, and focus.
As many home-based freelancers will tell you, it's not easier to work from home, it's just a different location.